Get a full picture of your audience with behavioral data
Surveys of online consumer behavior do not lie: people have limitations when it comes to recalling the websites they browse, as well as other digital habits. Therefore, to obtain accurate answers about online purchasing processes, a combination of traditional surveys and behavioral data is required nowadays.
The reason? Only 1% of people accurately mention the last 5 websites they have visited, while 29% mention none when asked about their recent online activity (ESOMAR). Moreover, now with the massive uptake of the mobile Internet, the situation is getting worse. Making the current digital environment difficult to remember, due to the numerous interactions with brands, products, and influencers.
However, it's time to understand the consumer as a whole and make the most of behavioral data. Below, we share with you the potential that this data provides, as in effect, surveys reveal what consumers remember, while behavioral data shows what they actually do.
Behavioral data to get a total understanding of the consumer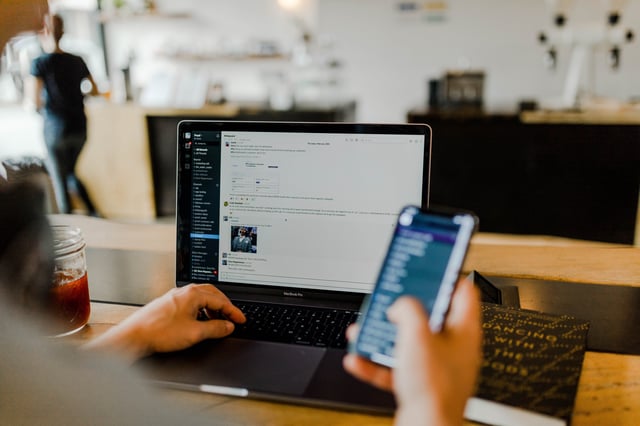 To understand online behaviors better, it is essential to use appropriate data sources. In recent years, behavioral data obtained through observational methodologies have proven to be more effective than those obtained through traditional methods, such as the famous surveys. This is because it does not require the active participation of individuals, but focuses on studying the activities they perform online instead.
Companies like Airbnb and Spotify have leveraged this data to gain a significant competitive advantage. But it's not just the big companies, businesses of all sizes are increasingly adopting behavioral data. Something that undoubtedly marks a new era of hyper-personalization and competition based on deep user understanding.
Top 3 benefits of using behavioral data
The use of behavioral data provides numerous benefits in the field of market research and analysis. Here we highlight the three key advantages of using this type of data.
Authenticity
Behavioral data

allows for obtaining quality data from a reliable source: the users (panelists).
The passive measurement used to gather behavioral data allows for obtaining more objective information, avoiding biases between panelists' statements and their actual online actions.
Easy access to data
Behavioral data

analysis tools provide integrated and centralized information.
The quick access to real-time data enables well-informed decisions to be made.
The availability of historical data offers the possibility of performing detailed analysis, making it possible to observe changes over time.
360° view of the consumer
Behavioral data

provides end-to-end insights by showing consumers' purchase records, navigation, locations, and preferences.
It provides a deeper understanding of the interactions in the purchase journey and relevant touch points.
It offers a complete view of the consumer, helping to identify valuable opportunities and enhance marketing strategies.
Behavioral data: Site-centric data and user-centric data
Now, it is important to remember that behavioral data gathering can be performed in two ways: user-centric and site-centric.
The first is based on direct observation of online consumer behavior through a panel of users. The second is based on metrics obtained from a specific website or application (app).
Site-centric data
Among the various advantages of collecting behavioral data in this way are the following:
Simple technology

. It is based on the use of tags and cookies, which allows to collect information efficiently.
Great for understanding user interactions

. Provides insight into how users interact with multiple content and web pages, allowing to understand behavioral patterns and optimize the user experience on the website or app.
Low cost.

Implementing behavioral data collection through cookies is relatively inexpensive and there are many cookie-based web analytics tools available at affordable prices.
User-centric data
From the user's point of view, favorable elements are:
It provides a complete view of the consumer's digital life.
Competitor information.

It allows us to analyze the competition, as well as to detect opportunities and market trends.
Exhaustive navigation.

Sites visited, applications, actions, search terms, and more, offer a deep view of the consumer's digital journeys, supporting strategic decisions based on solid data.
Taking advantage of having a complete picture of the consumer
Using behavioral data is beneficial for a wide variety of industries. Not only for those operating in the digital field. From consumer goods, travel agencies, healthcare companies, entertainment, or even products that are typically purchased offline, such as automobiles.
Behavioral data can be highly valuable in almost every industry, enabling companies to better understand the needs and preferences of their customers.
E-commerce measurement.

Behavioral data provides essential information about competitors and products, as well as e-commerce conversions, overcoming the limitations of offline information.
Ad efficiency and target audiences.

It enables the analysis of how the target population browses the Internet, thus improving segmentation, advertising, and budget allocation.
Investigation of search terms.

It helps to understand how the target population uses search engines and learns about product categories to make purchase decisions.
Audience measurement.

Behavioral data allows you to measure and evaluate website audiences, even by socio-economic groups. In this way, it helps to calculate the value of websites and the potential revenue generated through advertising.
What tools can be used to take advantage of behavioral data?
If you want to get closer to your consumers like never before, better analyze your main competitors, and obtain key data to improve your sales, Wakoopa may be the solution you've been looking for.
Founded in Amsterdam and a world leader in multi-device passive measurement solutions, Wakoopa offers services covering a broad portfolio that includes:
In-depth profiling

. Detailed and updated information from trusted panelists, segmented by variables far beyond the classic socio-demographic profiles. Choose shopping habits, preferences, travel patterns, leisure activities, and a wide range of other variables!
Shopping and e-commerce

. Detailed data on transactions, products added to shopping carts, market shares, and complete shopping paths that users are used to make.
International data.

Get data from users in the United States, Mexico, Colombia, United Kingdom, Germany, Spain, Austria, France, Portugal, Italy, Peru, Brazil, Chile, and Argentina.
It's undeniable. Now more than ever, we know that the mix of surveys and behavioral data is essential to get a complete view of online consumers.
Behavioral data is increasingly being used to gain valuable insights and improve marketing strategies. And while some may think that making the most of this data can be a difficult task, solutions like Wakoopa are here to help. With our high-quality data, you will be able to improve the understanding of your consumers.
Don't hesitate to learn more about Wakoopa and how we can help your company understand its digital audiences! Contact us!